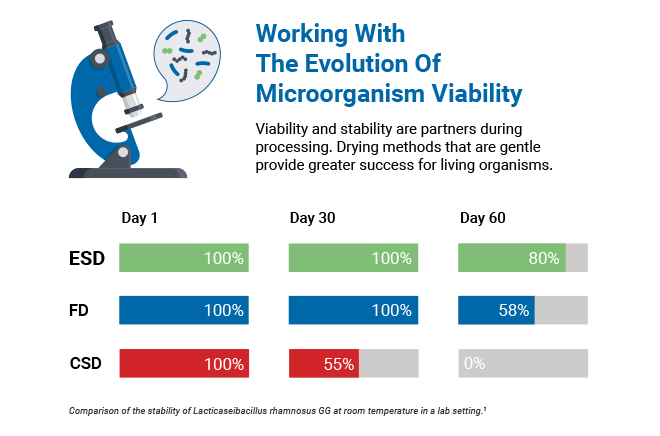 BREAKTHROUGH INNOVATION OFFERS SUSTAINABLE ALTERNATIVES TO FREEZE DRYING
Comparing Old Drying Technologies to New, Patented Drying Technology Used for Making Powder
An independent, third-party organization recently compared Fluid Air's patented electrostatic spray drying technology to two common drying methods, freeze drying and spray drying, which are regularly used in the production of pharmaceuticals, probiotics and temperature-sensitive materials. The comparison was done to help evaluate the best methods for processing anaerobic microorganisms based on an example of Lacticaseibacillus rhamnosus.
It is widely known that drying methods will influence microorganisms' viability in products made by the pharmaceutical and nutritional supplement industries. Fluid Air's PolarDry electrostatic spray drying technology is a continuous process executed at lower temperatures than conventional spray drying. This study examines the viability and stability of processed microorganisms, as well as the sustainability outcomes of the various drying methods.
Download the infographic to learn about:
CO

₂

emissions from freeze drying, conventional spray drying, and electrostatic spray drying
Microorganism viability and stability following various drying methods
Sustainable continuous drying
API environmental contamination and life cycle assessment scores
Fill out the form to download the infographic.