Defining the Next Generation of Coating Technology
Defining the Next Generation of Coating Technology
Perfecting traditional technologies & developing new ones.
Electrostatic Spray Dry Technology
Wurster Coating Technology
Ultrasonic Coating Technology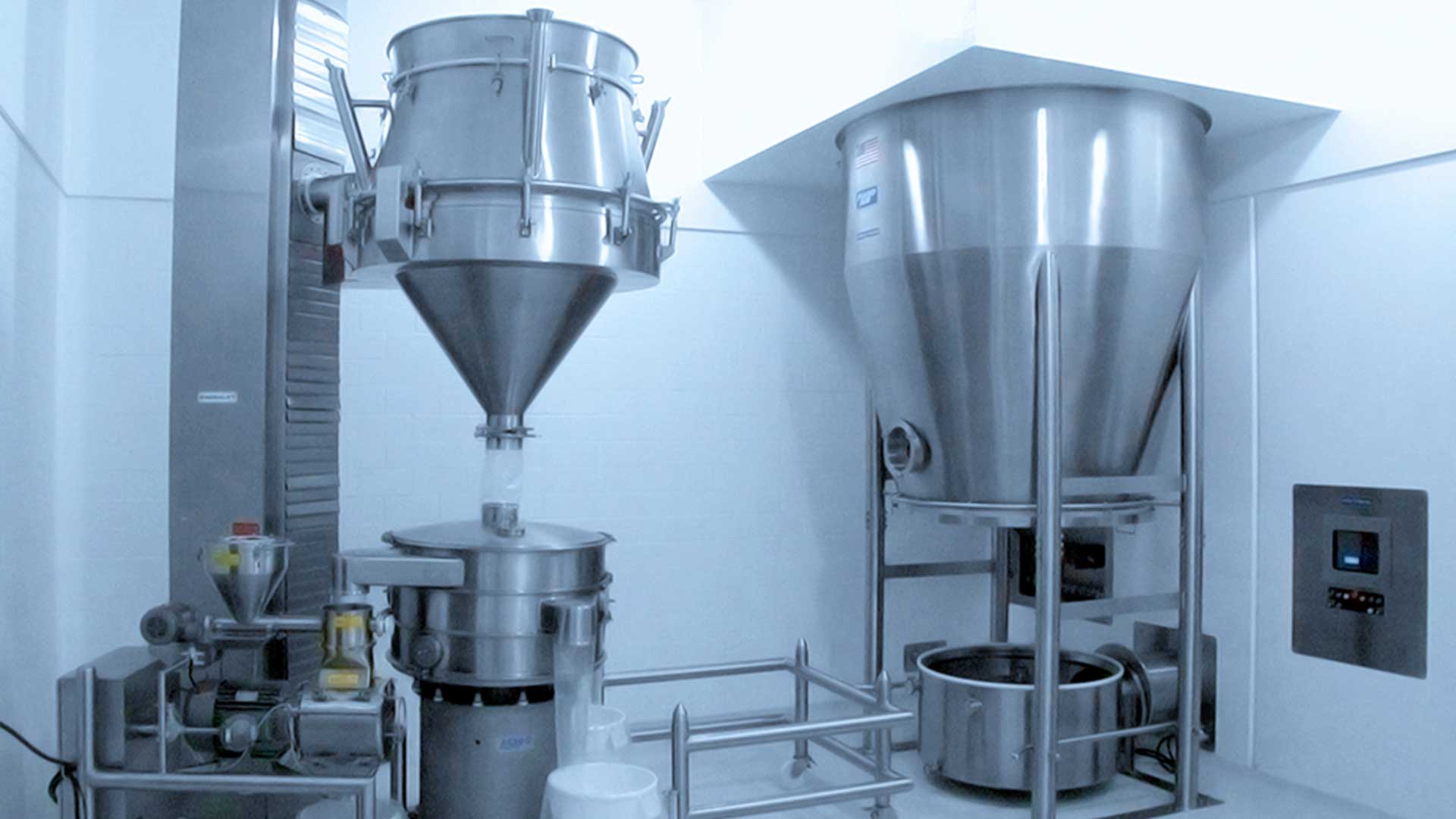 Complete Solid Dosage Solutions
Fluid Air is a division of Spraying Systems Co., the world leader in spray nozzle technology. Since 1983, Fluid Air has established its leadership through the development of solution-oriented approach toward manufacturing equipment and customer service for the pharmaceutical, nutraceutical, food, cosmetics, agriculture and fine chemical industries.
Fluid bed dryers/granulators, Wurster coaters, high-shear granulators, and size reduction systems are all available from proof-of-concept to full-scale production. Fluid Air's patented process control software for batch-type equipment is designed to provide superior performance and batch uniformity for powder processing applications while maintaining important process parameters from one size system to the next, configurable with a wide variety of optional features, each system is completely custom to fit your specifications and process requirements, ensuring the right size or system for your manufacturing unique needs.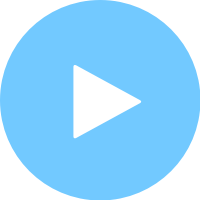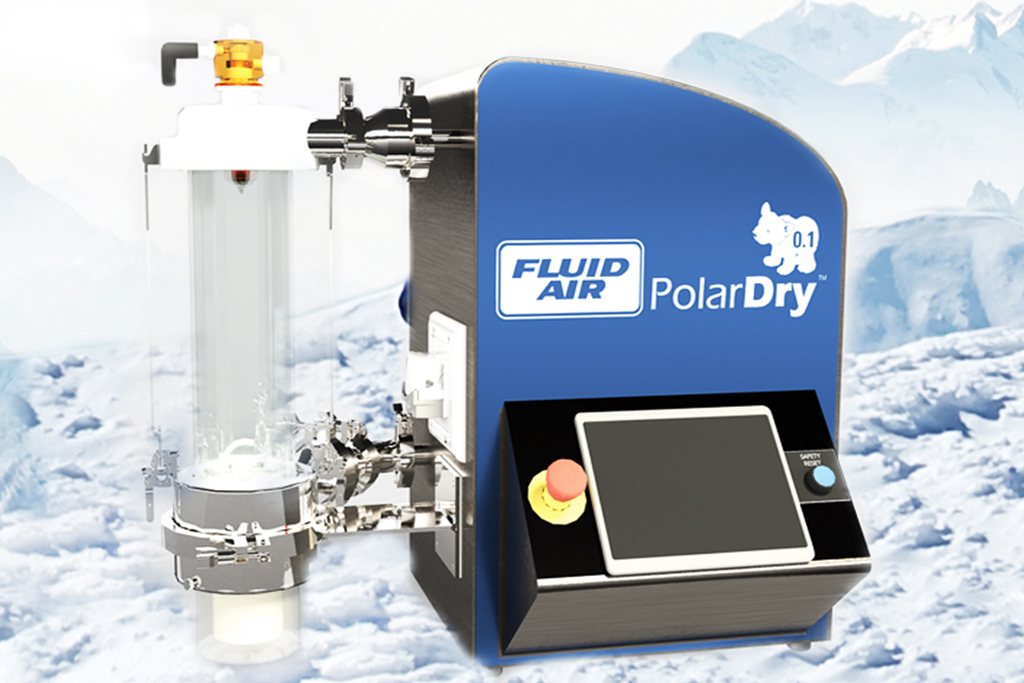 The Tabletop Titan of Spray Drying
The NEW Model 0.1 PolarDry® Electrostatic Spray Dryer
GMP Design
Autoclavable for Sterile Applications
Small Enough to Fit in Most Lab Fume or Containment Hoods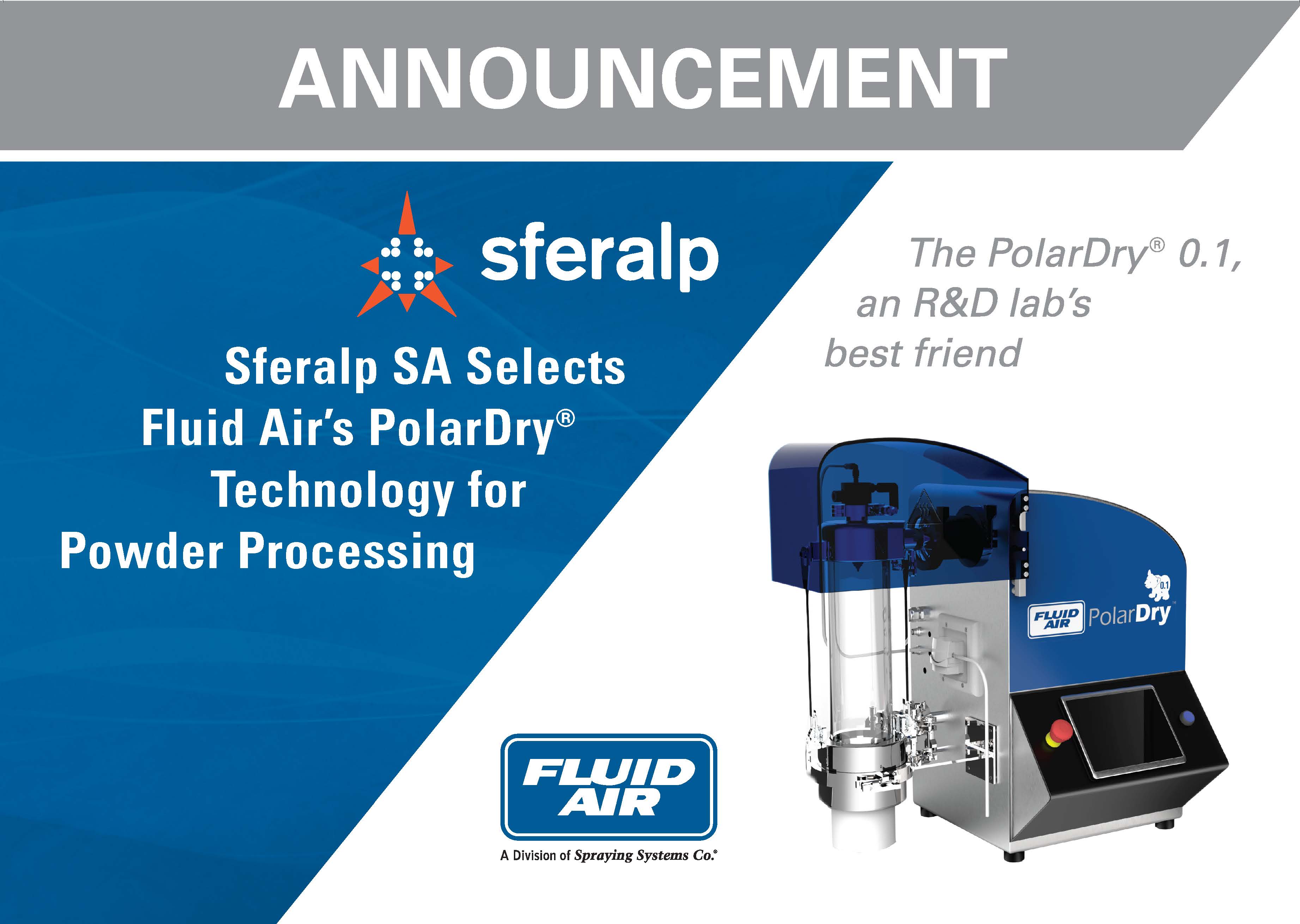 New Research Partnership Announced
Internationally-renowned research lab Sferalp SA has selected Fluid Air technology for use in its research laboratory located in Monteggio, Switzerland. The company will also leverage the Fluid Air testing center in Nantes, France when it needs help with extensive trial tests. Sferalp SA, which serves as the R&D arm of Micro-Sphere, has more than 20 years' experience helping commercial food, pharmaceutical and nutraceutical companies develop their self-emulsifying oils, solutions, emulsions, suspensions, powders, HPMC capsules and soft gel products. Learn more about the newly announced collaboration with Fluid Air.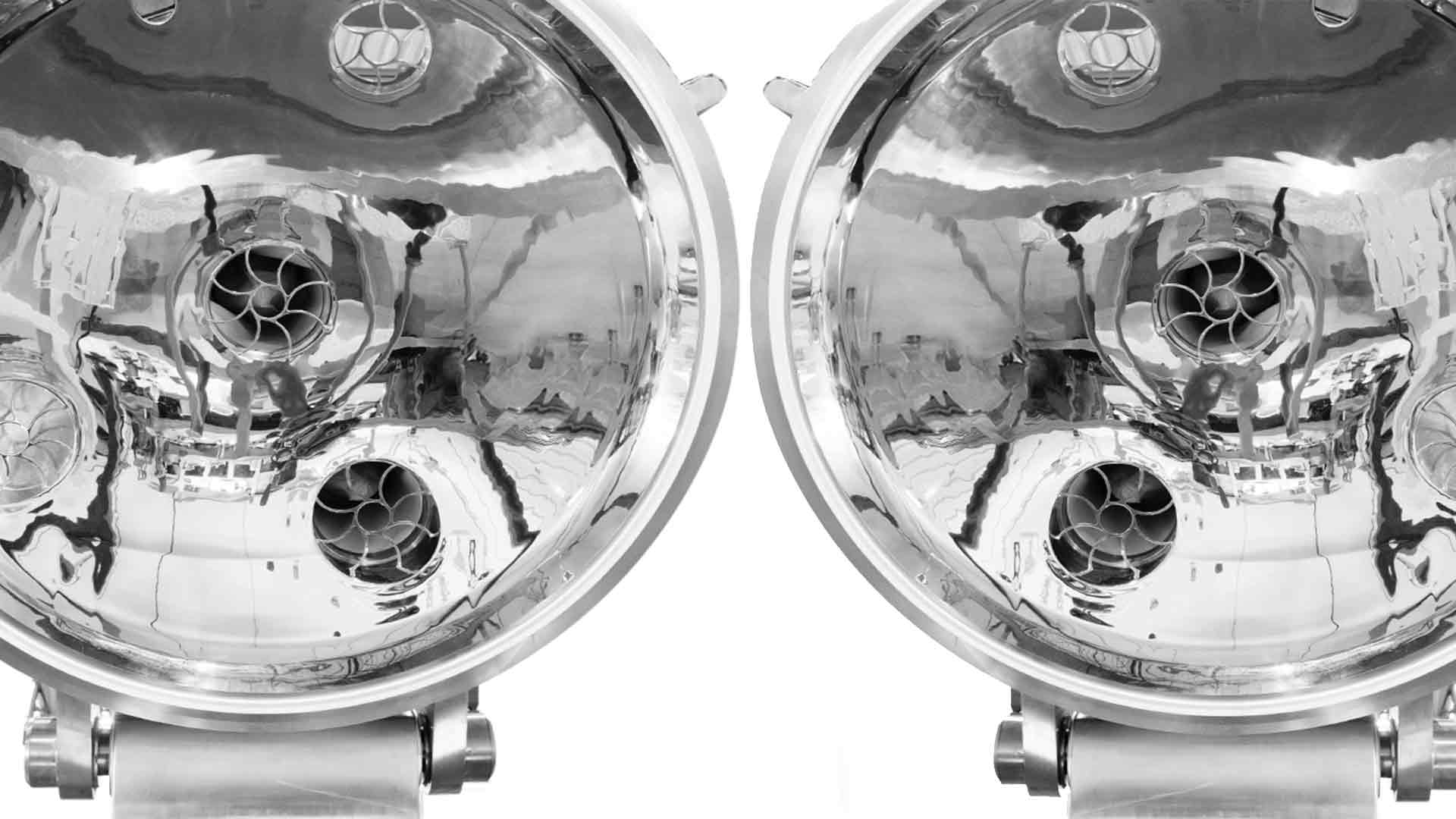 Experts in Solid Dosage Technology 
Developing your next process just got easier.
Fluid Bed Systems
High-Shear Granulators
Size Reduction Mills
Spray Dryers
Process Control Software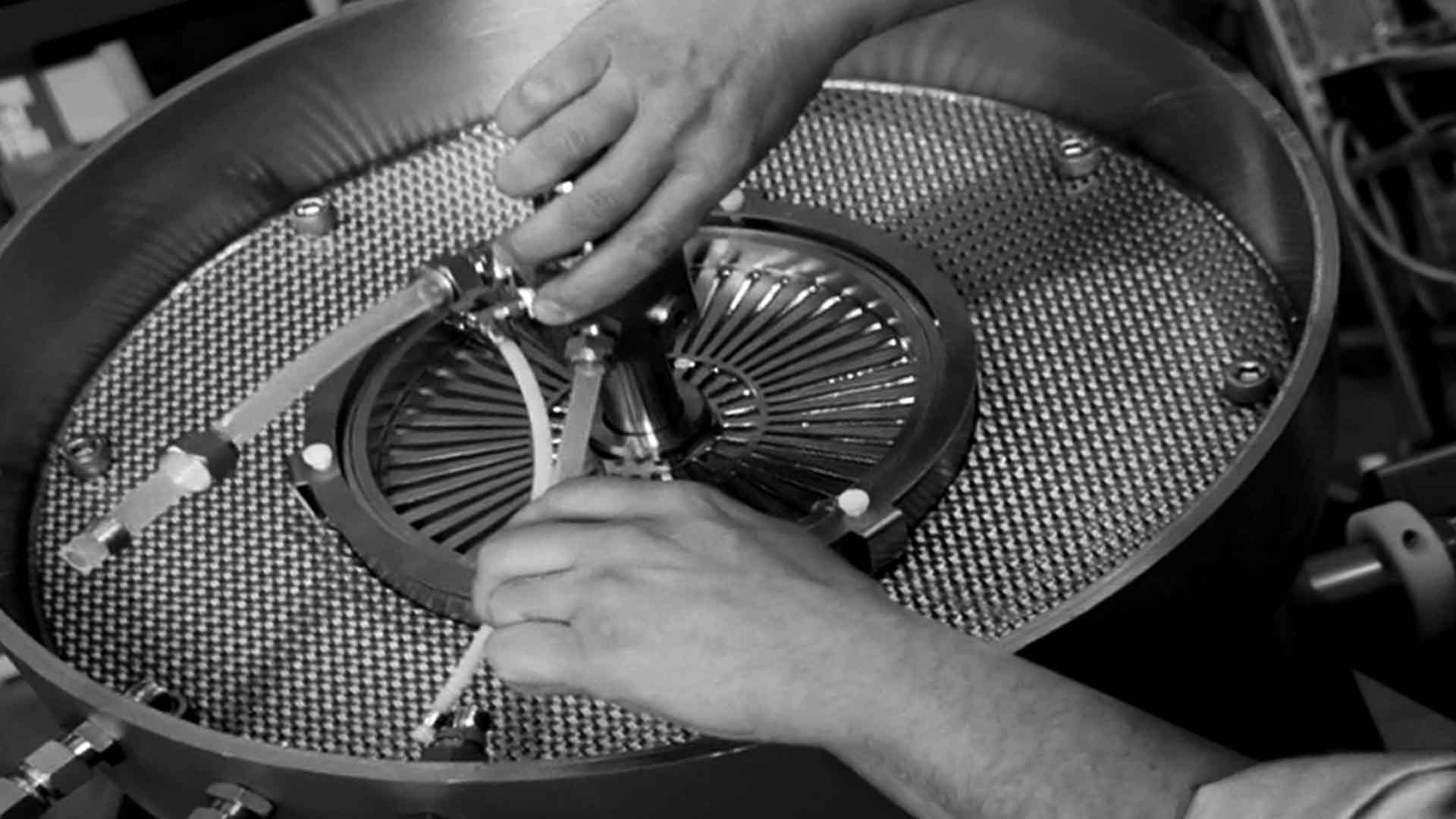 Reliability. Flexibility. Dedication.
Fluid Air Service & Support
Spare Parts
Upgrades / Retrofit Process
Field / Remote Service
Michael Frodyma | Director, Product Development
"The Fluid Air Staff provide the best service I've come across. Robert, our Fluid Air product specialist goes above and beyond for us. I look forward to working with him on all our future projects."
Yuh-Fun Maa, Ph.D. | Senior Principal Engineer Pharmaceutical Process & Technology Development
"Fluid Air offers a unique, low temperature spray drying technology (PolarDry) which may benefit the dehydration of biological products. I'm very impressed by the knowledge and experience of Fluid Air specialists in relating this technology to our process and product development. I look forward to continuing support from Fluid Air and the positive outcome of our process development in PolarDry."
Upcoming Events
Domestic Trade Shows
Due to Covid-19 many trade shows have been cancelled or rescheduled.

Powder Bulk Solids -- August 24-26
(Rosemont, IL)

ISPE Boston -- September 15th
(Boston, MA)

Bioprocess Boston -- September 20-23
(Boston, MA)

Interphex -- October 19-21
(New York, NY)


These dates are subject to change.
International Trade Shows
Due to Covid-19 many trade shows have been cancelled or rescheduled.

Vitafoods -- October 4-8
(Switzerland)

CPHI -- November 9-11
(Milan, Italy)

Health Ingredient -- November 30 - December 2
(Germany)




These dates are subject to change.