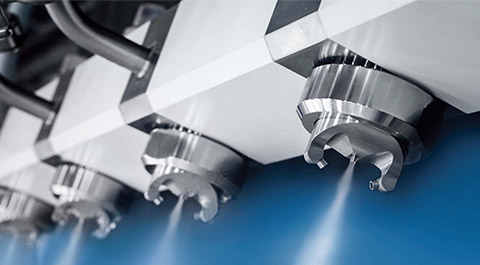 Revitalize Your Existing Coater
Replacing a costly tablet coater or coating pan is not the only way to improve coating results. Designed to upgrade only the core components of your existing coater, the Fluid Air TABCOATER® system is a flexible solution for improving the performance of aging coating equipment.
Improve Coating Results
Internal Recirculating Spray Nozzles
The TABCOATER system features a specially-designed patent-pending air atomizing manifold from Spraying Systems Co. to deliver superior spray performance. Each manifold is equipped with 4 or more individually-fed, re-circulating VMAU spray nozzles, allowing the coating solution to flow continuously and re-circulate through the system while the nozzle needle is extended for cleaning/shut-off.
Reduce Clogging & Improve Coating Uniformity
For solutions/suspensions with a high concentration of solids, this is especially significant. In ordinary liquid-delivery systems, when the shut-off needle is extended, the solids in the coating solution can drop out of suspension, leading to uneven coating or nozzle clogging. In addition, temperature-sensitive solutions can harden or stagnate in a nozzle, causing blockages. Recirculating the solution inside the spray nozzle/liquid delivery system eliminates these issues, allowing the shut-off/clean-out needles to be extended for cleaning/inspection of the nozzle or to suspend the coating process.
Connection Hub Eliminates the Need for Multiple Liquid/Air Lines
The 54000 Air Atomizing Manifold's connection hub eliminates the need for multiple connections to each nozzle, greatly simplifying setup time. Because the VMAU spray nozzles' liquid recirculation return is housed inside the nozzle body and ported through the manifold, fewer liquid lines/connections are required; this reduces the number of tubes that ultimately go inside the coating pan, reducing cleaning/changeover time.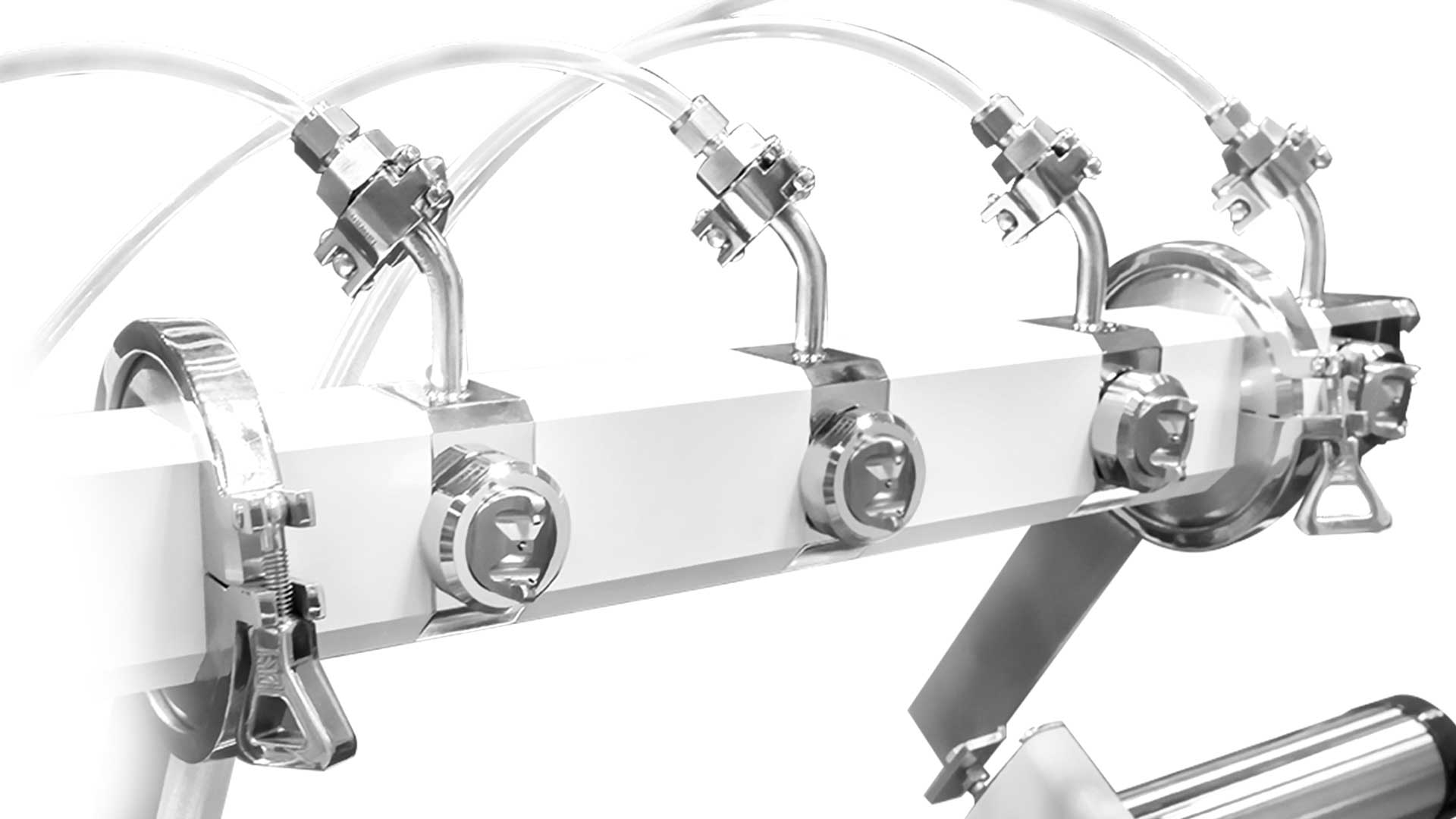 54000 Modular Air Atomizing Manifold
The 54000 Modular Air Atomizing Manifold from Spraying Systems Co. features anti-bearding nozzles, patent-pending internal recirculating guns, a shut-off valve that keeps liquid moving, reducing product build-up, and a mounting design which prevents tablet entrapment. For users without an existing manifold system or those looking to upgrade, we will work with you to design and fabricate a manifold system to fit your coater's exact specifications.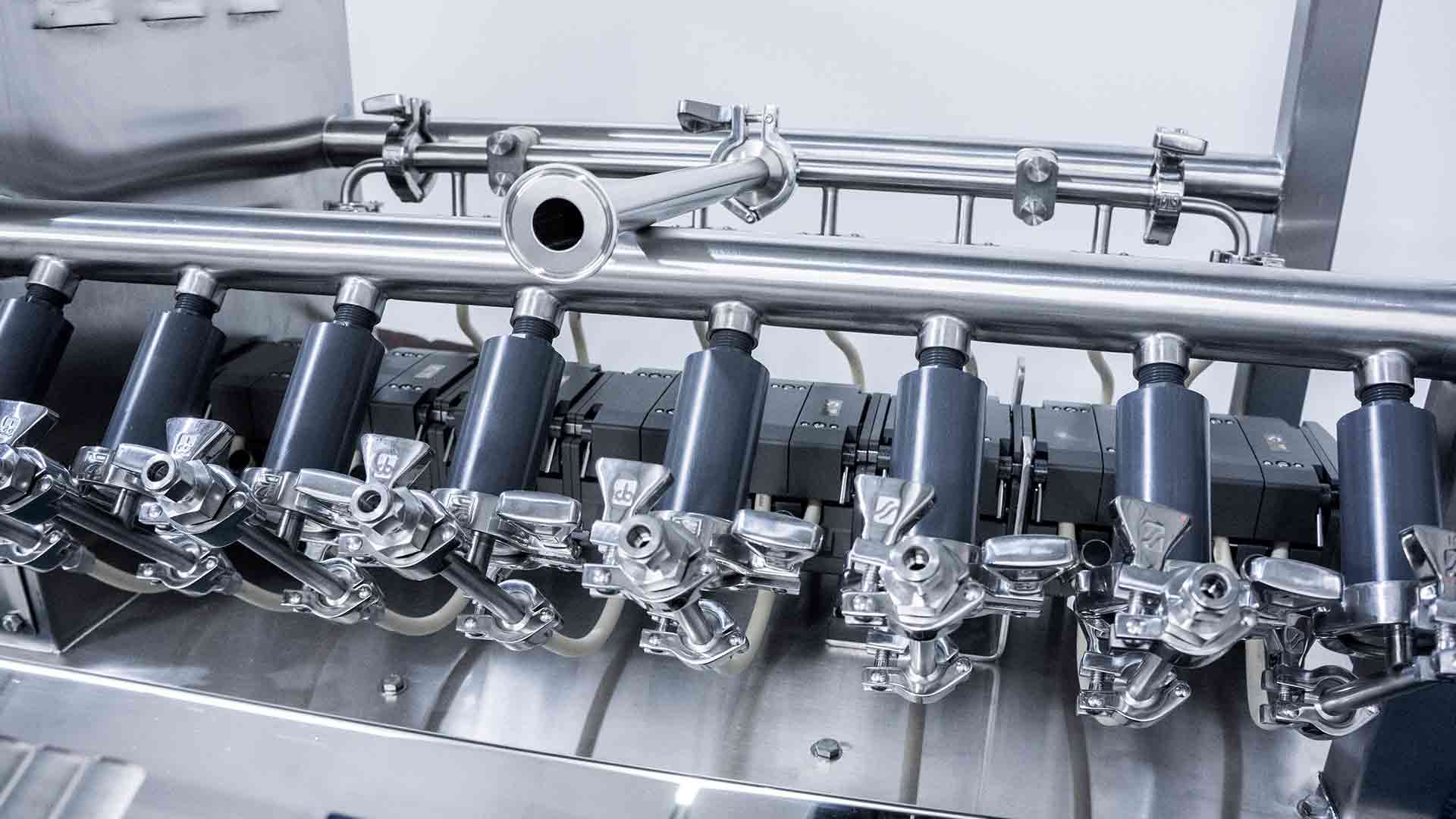 Customized Fluid Delivery Skids
TABCOATER features a liquid delivery skid which can perform manually and automatic operation with closed-loop solution/liquid delivery metering using loss-in-weight, mass flow sensing, and totalizing, ultimately saving time in costly trial and error efforts. Precise, low-pulsation peristalitc pumps eliminate "dead-leg" liquid distribution.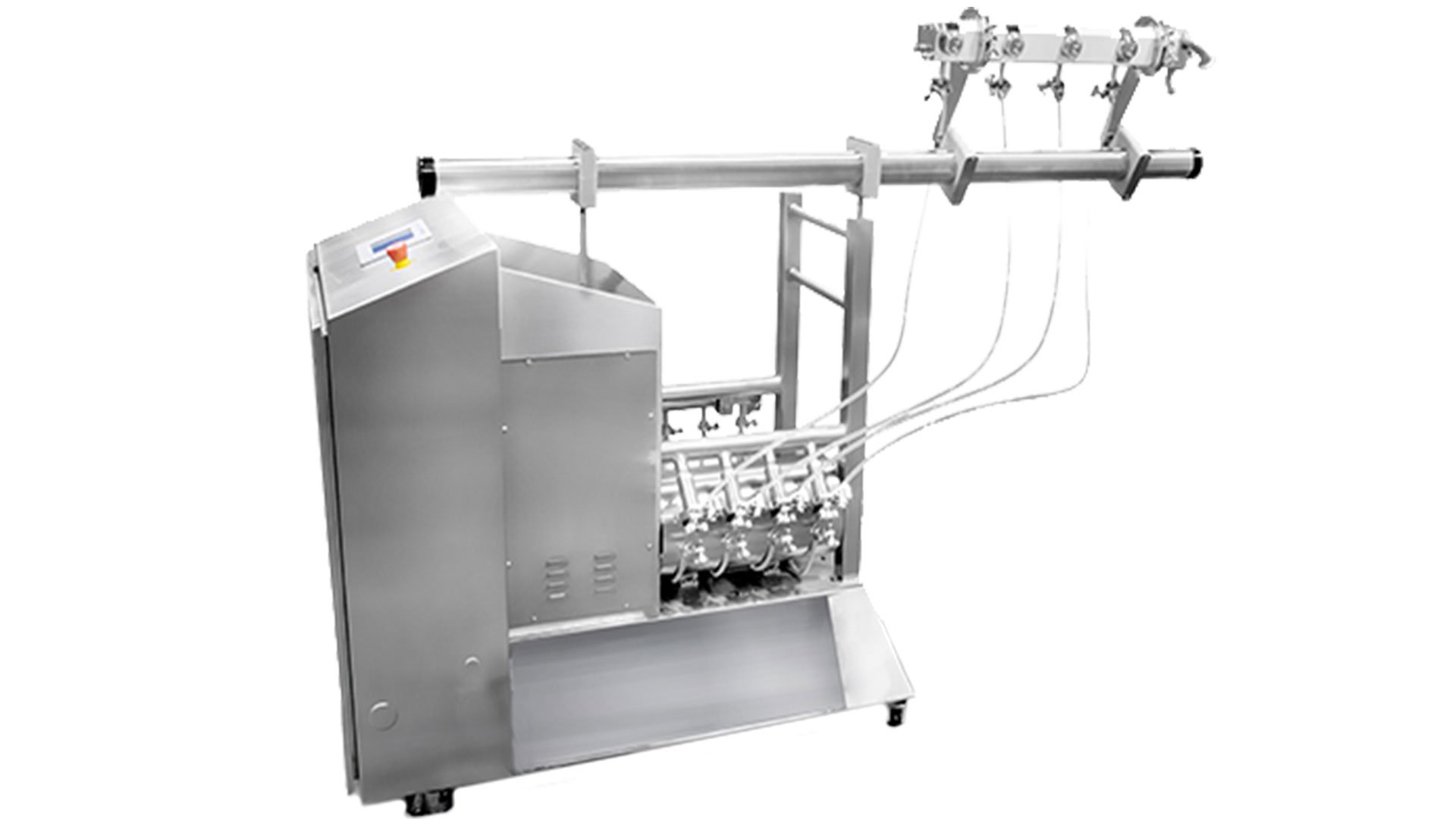 Customize Your System
Design Options Include
Custom Nozzle Manifold configurations and support
Manual "push button" standalone liquid delivery solutions
Automatic Batch Architect standalone liquid delivery systems
Manual or Automatic liquid delivery systems that interface with existing control systems
Full Coating pan automation using Batch Architect Pro control systems
Spray It On!
The coating of tablets is not too dissimilar from getting a car freshly detailed, or even having one's nails polished. In the past, sugar-based solutions were the common coating go-to, but the modern process revolved around film coatings that can adhere to a wide range of dosage forms. These forms include capsules, pellets, and drug crystals.