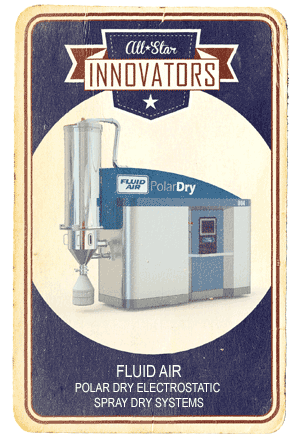 ---
The editors of Pharmaceutical Manufacturing have their own trophies to award in this issue. Equipment suppliers strategized and fielded winning teams that produced technological innovation in the pharma world. They delivered game-winning solutions to increase efficiencies and decrease costs in drug manufacturing operations. Although not a comprehensive list, we bring you our highlight reel of MVPs (most valuable products).

As in the All-Star game, we showcase a variety of players from different ends of the country. All-Star Innovators include recently introduced technologies, systems and services that, based on their applicational and technical merits, were selected by Pharmaceutical Manufacturing's editors and advisors to be on this year's roster.

Batting first for the solid dose players, Fluid Air's PolarDry Electrostatic Spray Dryers use electrostatic technology, which allows for low temperature spray drying, "near perfect" encapsulation and selective agglomeration in the creation of particles. Electrostatic spray dry technology has many advantages including superior morphology, longer shelf life, non-reactive processing, minimal emissions and low energy consumption compared to traditional spray drying processes, according to Fluid Air fans.

The company says this technology will open a new branch of Active Pharmaceutical Ingredients that previously could not be produced in a powder form due to the required high temperatures of traditional spray drying. Using PolarDry technology, particles can be produced at ambient to 80° C inlet conditions. Low temperature processing eliminates ingredient loss, degradation or denaturalization. Also, this single step process eliminates the need for secondary operations.
---