Impact & Screening Mills in a Single System
GRANUMILL® size reduction systems meet FDA SUPAC (Scale-Up and Post-Approval Changes) guidelines for both impact and screening mills, allowing for low-RPM screening of agglomerates in addition to high-speed impact milling. The mill's versatile design combined with the new, removable containment option provides users with the flexibility to run a variety of processes for a range of applications on a single, cost-effective system.
GRANUMILL Jr.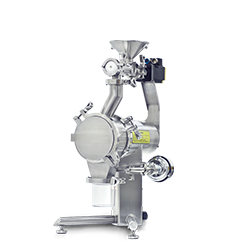 Laboratory-scale units provide effective size reduction or de-agglomeration for small batches.
GRANUMILL 007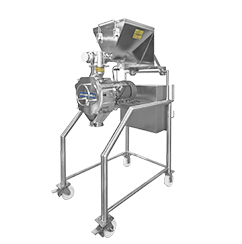 Mid-sized systems offer a range of options for larger batches intended for clinical trial or small-scale production.
GRANUMILL 014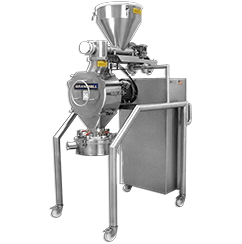 Large scale systems for very large batches.
MILL SPECIFICATIONS

GRANUMILL JR.

GRANUMILL 007

GRANUMILL 014

Speed (RPM)

500 - 10000

500 - 5000

600 - 3600

Finished Particle Size (micron)

45 - 2000

45 - 2000

45 - 2000

Throughput lbs/hr (kg/hr)

0.2-60 (0.1-25)

2-2250 (1-1000)

4-3860) (2-1750)

Height (in/mm)

25/635

80/2032

80/2032

Width (in/mm)

12/304

32/813

40/1016

Length (inches/mm)

15/381

60/1524

60/1727

Screen Width (inches/mm)

4/102

7/178

14/356
Size Reduction Solutions
Milling Your Way
Several style interchangeable rotors are available. Each rotor is designed with the main impact surface or blade being oriented circumferentially at a set distance from the axis of rotation. Since this surface is a constant distance from the axis of rotation, all particles impact the blade on an area that is traveling at a constant tip speed. Unlike segmented mill rotor designs that impart particles with surfaces of varying tip speeds, the Fluid Air rotor design mills particles with a tighter particle size distribution due to the constant impact speed.
Flat Blade Rotors – Used for impacting and shattering particles
Round Blade Rotors – Gentle impact particles and are perfect for delumping or mill milling materials
Knife Blade Rotors – Are used for shearing, dividing or otherwise cutting particles
Safety
The mill's inlet and outlet have welded in place minimally intrusive safety grates that prevent an operator from placing their hands into the machine.
In instances where a safety grate would prevent the flow of material into and out of the mill, safety rated limit switches prevent the mill from running while the mill is out of its protected position.
The mill's cover is protected by safety rated limit switched as well as locking devices that prevent the cover from being removed unless the mill has completely stopped spinning.
Dynamic braking is provided that injects DC voltage into the motor to instantaneously stop the mill rotation in emergency situations.
Optional explosion proof designs are available with purged panels, intrinsically safe instrumentation, explosion proof motors, and rated electrical connection hardware. These are designed to operate in most common process room explosion proof environments such as Class I, Div. 1, Group D and Class I, Div.1, Group F&D with others available.
Nitrogen inerting systems are available when milling particularly hazardous explosive materials. Deflagration is prevented by inerting the milling chamber by displacing all of the oxygen with nitrogen. The oxygen levels within the housings are constantly monitored shutting down the milling operation if levels escalate above safe levels. Automatic regulation of the nitrogen supply prevent over pressurization and wasting nitrogen.
Water jackets of the mill housing and cover remove heat from the milling chamber preventing thermal damage to the product and equipment.
Dust Free
All Fluid Air GRANUMILLs are designed for dust free milling. Mills act like pumps pulling air in from the inlet of the mill, pushing it out of the discharge. This is the source of mill dusting problems. Fluid Air mills are designed to prevent the infiltration of air on the inlet side with all sealed connections at all feed points.
The lack of air prevents dust particles from becoming airborne. Similarly, all discharge connections are sealed to prevent air and dust from escaping. When milling into a closed container, the air entrained in the milled product and air displaced from the collection container by the product must be properly vented to prevent over pressurization and dusting.
Fluid Air has specially designed containment systems that separate the particle from the airstream before it is vented from the system. These low velocity containment systems utilize high efficiency FDA approved filters that prevent dust from leaving the milling system.
The combination of these two systems assures dust free milling, minimum operator exposure and a cleaner operating environment.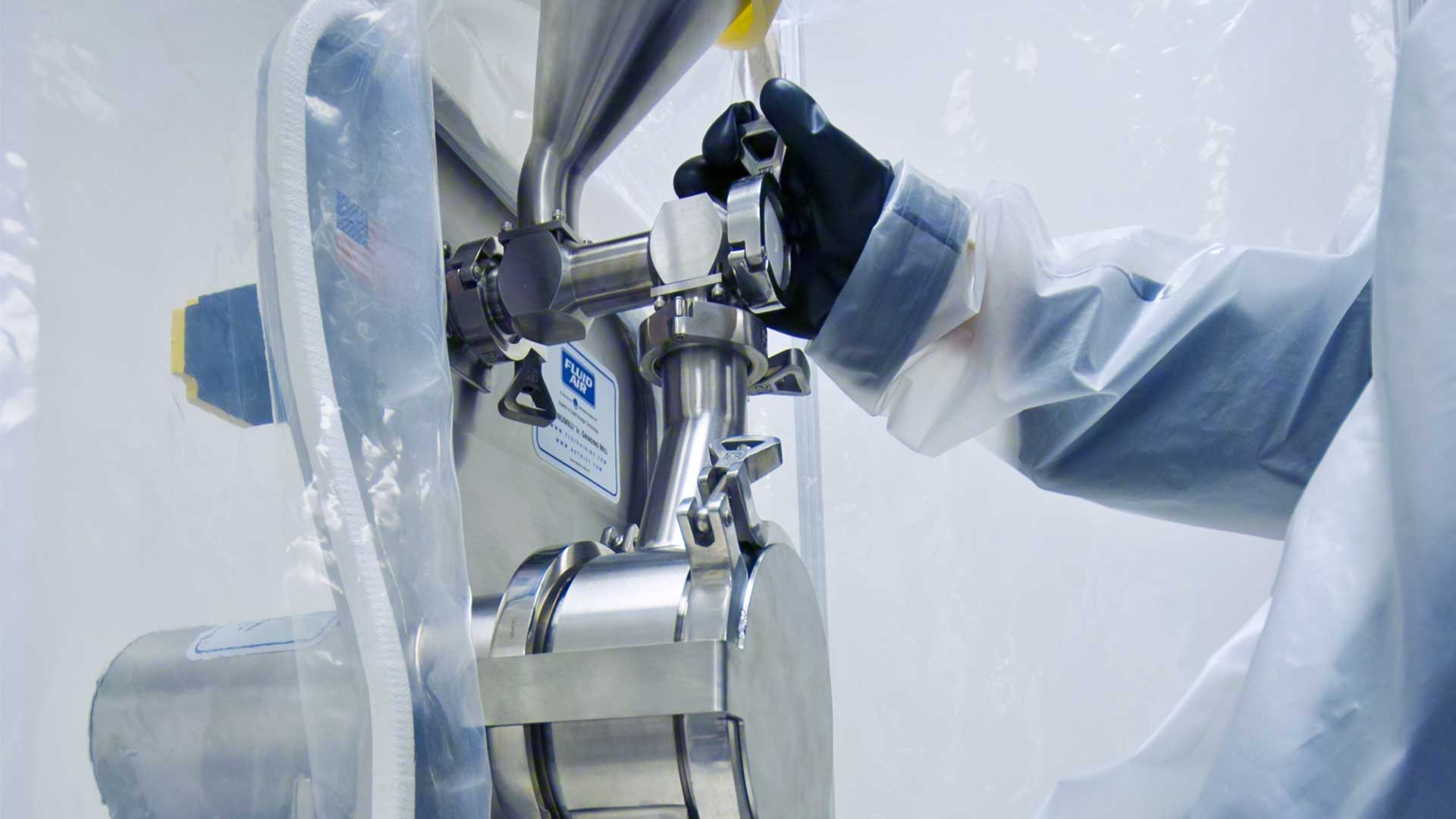 Flexible Containment Enclosure
In cooperation with ILC-Dover, we are able to provide custom-designed, flexible containment systems for GRANUMILL Jr. size reduction systems. The flexible enclosure set-up allows for use in both containment and non-containment applications, eliminating the need to purchase a second machine solely for containment use.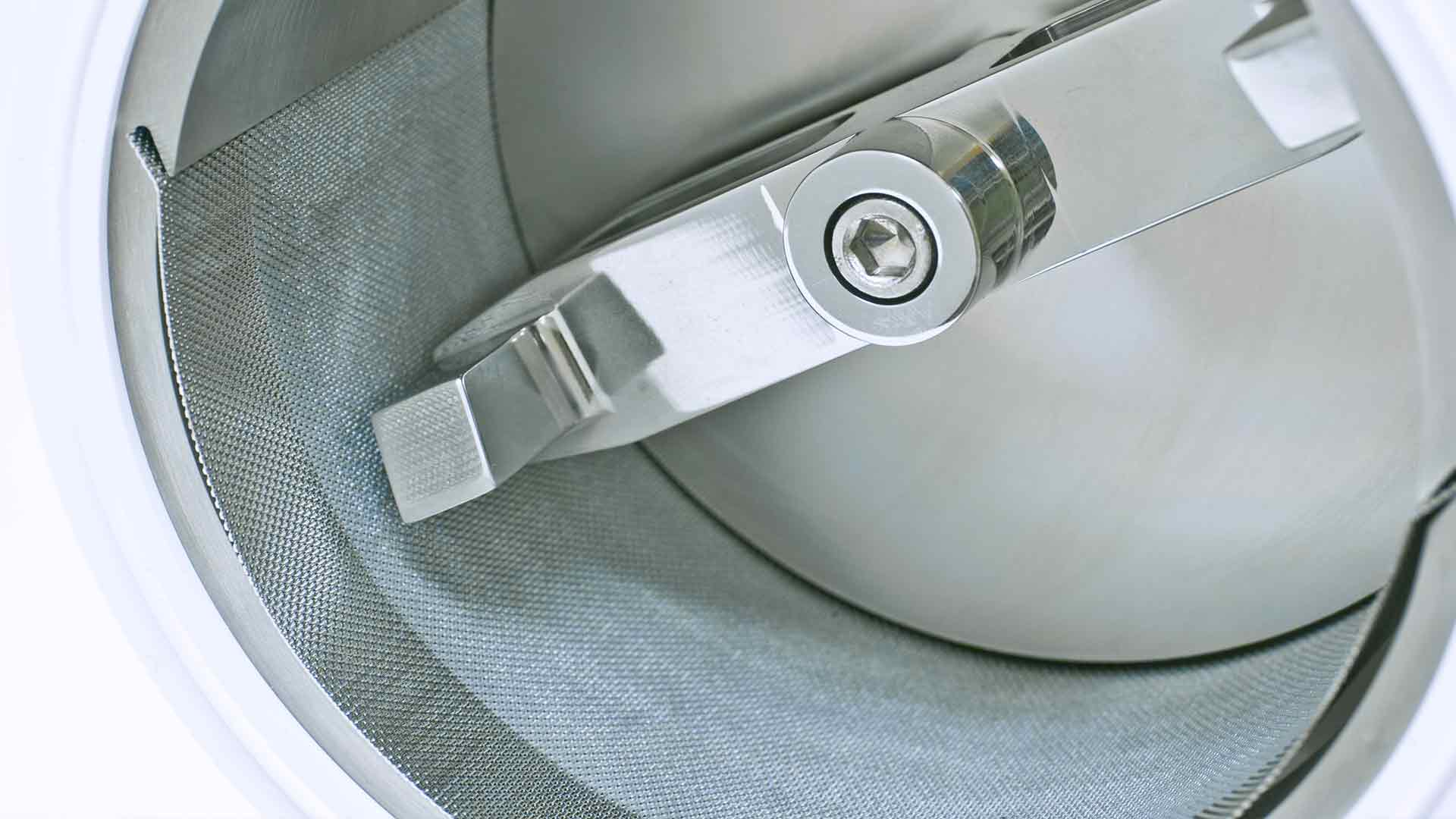 Robust Rotor Design
The robust GRANUMILL rotor is available in three different shapes and designed to endure even the most challenging applications. The shape of the rotor, combined with the geometry of the system's housing allow it to achieve better results at lower speeds, reducing fines, noise, heat and dust.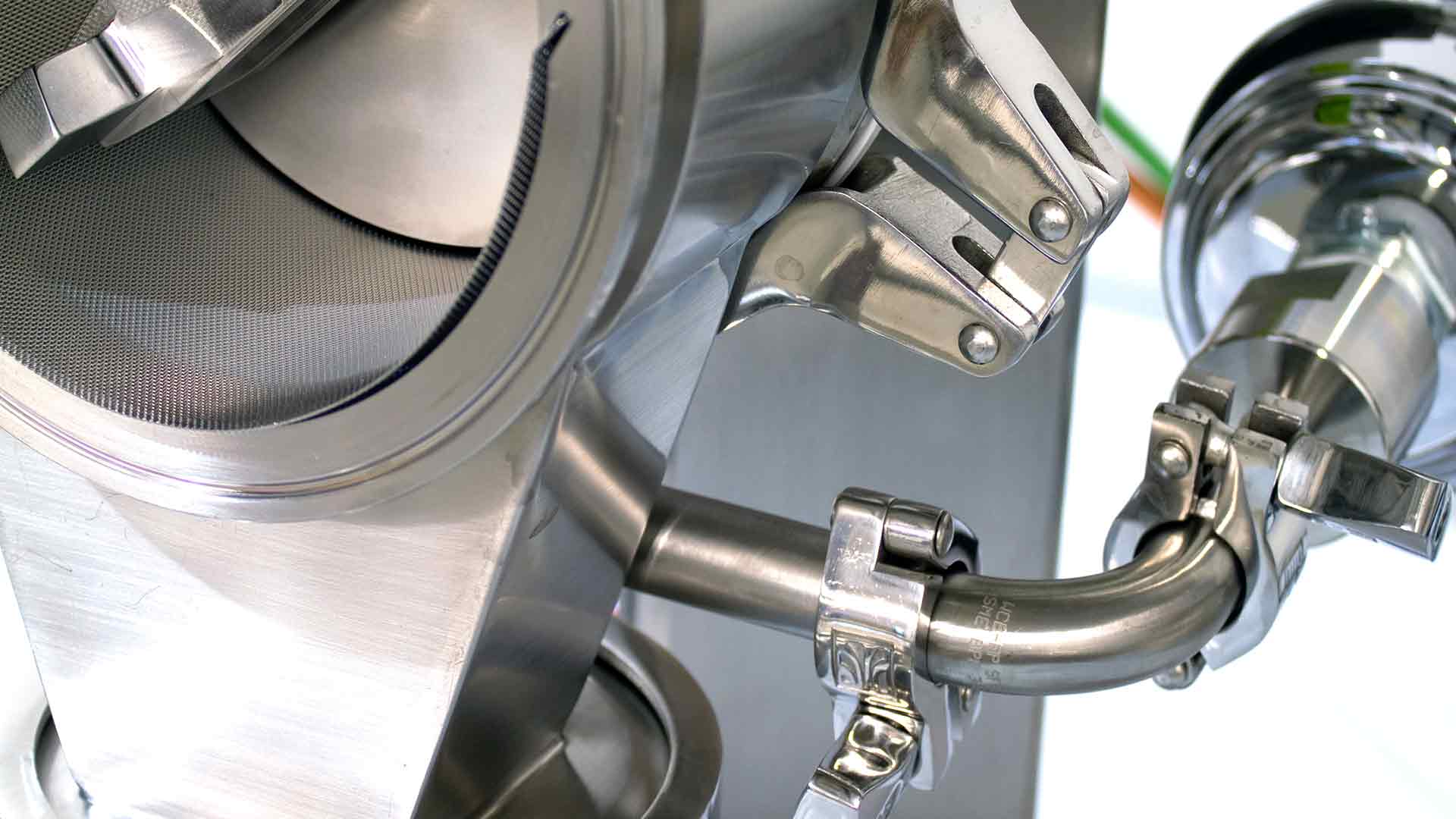 Quick-Release Housing
GRANUMILL systems are equipped with quick-release clamps that allow product contact parts to be completely broken down in a matter of minutes. The components can then be soaked in a tub with detergent and cleaned in significantly less time than is required to clean other mills.
Less is More
This mechanical method is generally known as milling, but is also referred to as grinding, granulating and comminuting. Typically, this is used to either break apart large clusters of product/material, or to diminish the average particle size in any such material; this is known as particle size reduction.