The Fluid Air - Connoils Story
---
Global supplement manufacturer, distributor, and wholesale supplier of bulk oil ingredients, Connoils LLC, is a Fluid Air customer.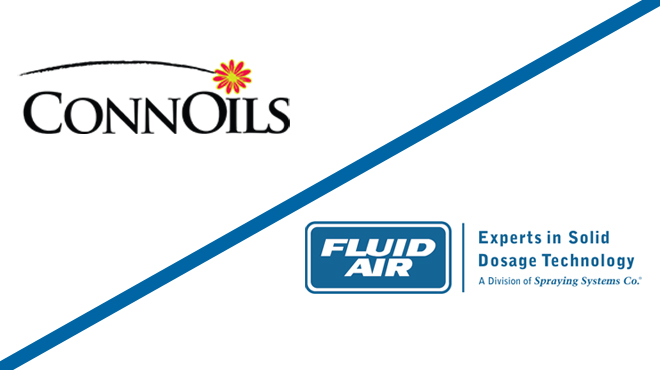 ---
When the Connoils-Fluid Air relationship began, Connoils was interested in using spray drying technology for ingredient manufacturing, but traditional spray drying equipment operates at temperatures too high for some of the ingredients Connoils manufactures. Fluid Air is a leading manufacturer of spray drying equipment and developed an
electrostatic spray drying system
that operates at lower temperatures than traditional spray drying equipment. Connoils is known for internally stabilized organic oils, oil powders and a variety of specialty ingredients used in health and wellness, nutraceuticals, pet nutrition, sports nutrition, and beauty products.
Over the years, our companies have worked together to customize and optimize complex Fluid Air equipment in ways that help support Connoils' specific raw material needs, improve our processes, and enhance new product development. In particular, we have been able to achieve superior microencapsulation using cutting-edge Fluid Air spray drying equipment which preserves the integrity of our products through advanced low-temperature drying techniques.
As a result,
Connoils
can produce some of the highest oil loading in powders—especially temperature sensitive oils, such as omega-3 oils, giving us a competitive advantage in our market. Fluid Air's spray drying equipment enables us to meet food, nutritional and drink grade standards for clients that use our ingredients in foods, tablets and capsules, gels, dried beverages and more.
The Connoils team is enthusiastic about what the future holds. We look forward to continued collaboration with Fluid Air to extend into new products and possibilities that meet consumers' and marketers' changing demands.
---