Micro-Sphere SA Selects Fluid Air's PolarDry Technology for Powder Processing
---
Switzerland-based CDMO will also help customers leverage PolarDry technology for new powder drying processes.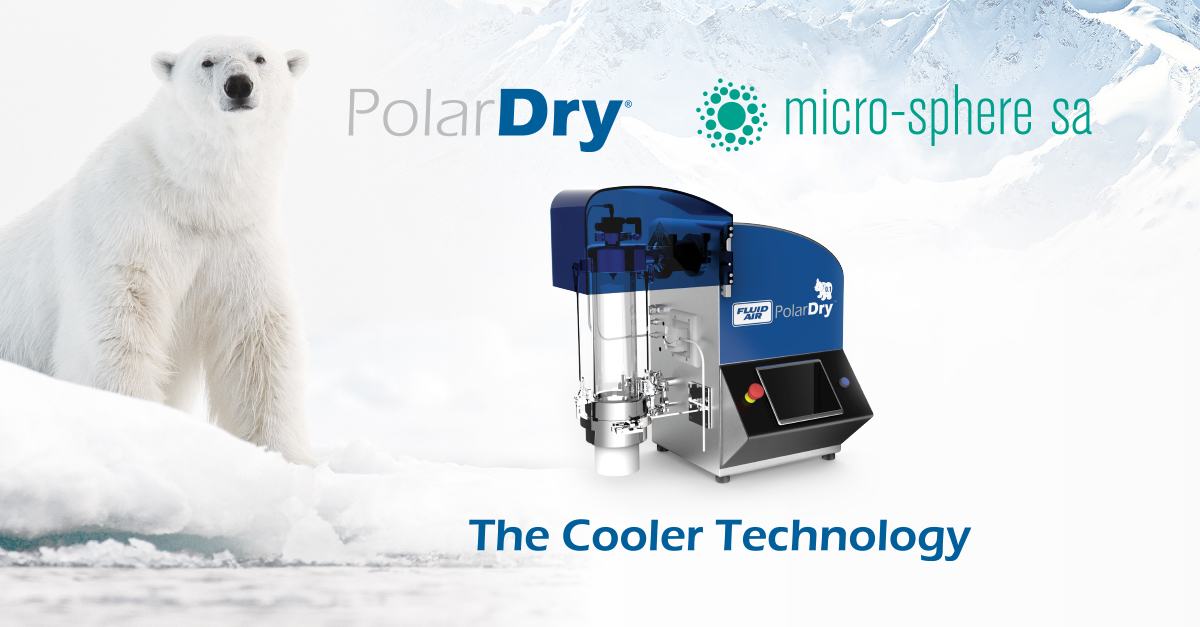 ---
Naperville, IL, August 18, 2022 – Fluid Air, a division of Spraying Systems Co., announced today that the contract development and manufacturing organization Micro-Sphere SA has selected Fluid Air's PolarDry electrostatic spray drying technology for use in customer testing at its headquarters in Monteggio, Switzerland.


Micro-Sphere SA, has more than 20 years' experience helping commercial pharmaceutical and nutraceutical companies to spray dry aqueous and organic solutions, of conventional APIs, HPAPIs, lipids, proteins, biologics and in capsule filling for dry powder. Micro-Sphere has begun using Fluid Air's PolarDry Model 0.1 electrostatic spray dryer for customer testing.

Fluid Air is an award-winning developer of equipment and custom solutions used for modifying and creating powders and particles, and its technology is used to help the pharmaceutical, nutraceutical, food, fine chemical, agriculture, and biopharmaceutical industries daily.

"Micro-Sphere is widely recognized for its expertise in dry powder inhalation encapsulation services for difficult powder formulations," said Michael Grassberger, CEO of Micro-Sphere. "Fluid Air's electrostatic spray drying technology, PolarDry, is proven to efficiently dry powder at lower temperatures, which is very valuable for many of our customers that expect the highest quality and product performance. Further, this partnership is a win-win situation, since FluidAir enters a partnership with a pharmaceutical provider and Micro-Sphere secures innovative technology for its spray drying needs."

"Fluid Air is pleased to serve as a technology partner for Micro-Sphere in its work as a CDMO for pharmaceutical and supplement manufacturers," said Michel Thenin, president, Fluid Air.

---