New PolarDry Technology Arriving in Normandy, France at LIS by Lesaffre
---
State-of-the-art commercial-scale electrostatic spray dryer will be the latest addition to LIS' famed seventeen spray dryers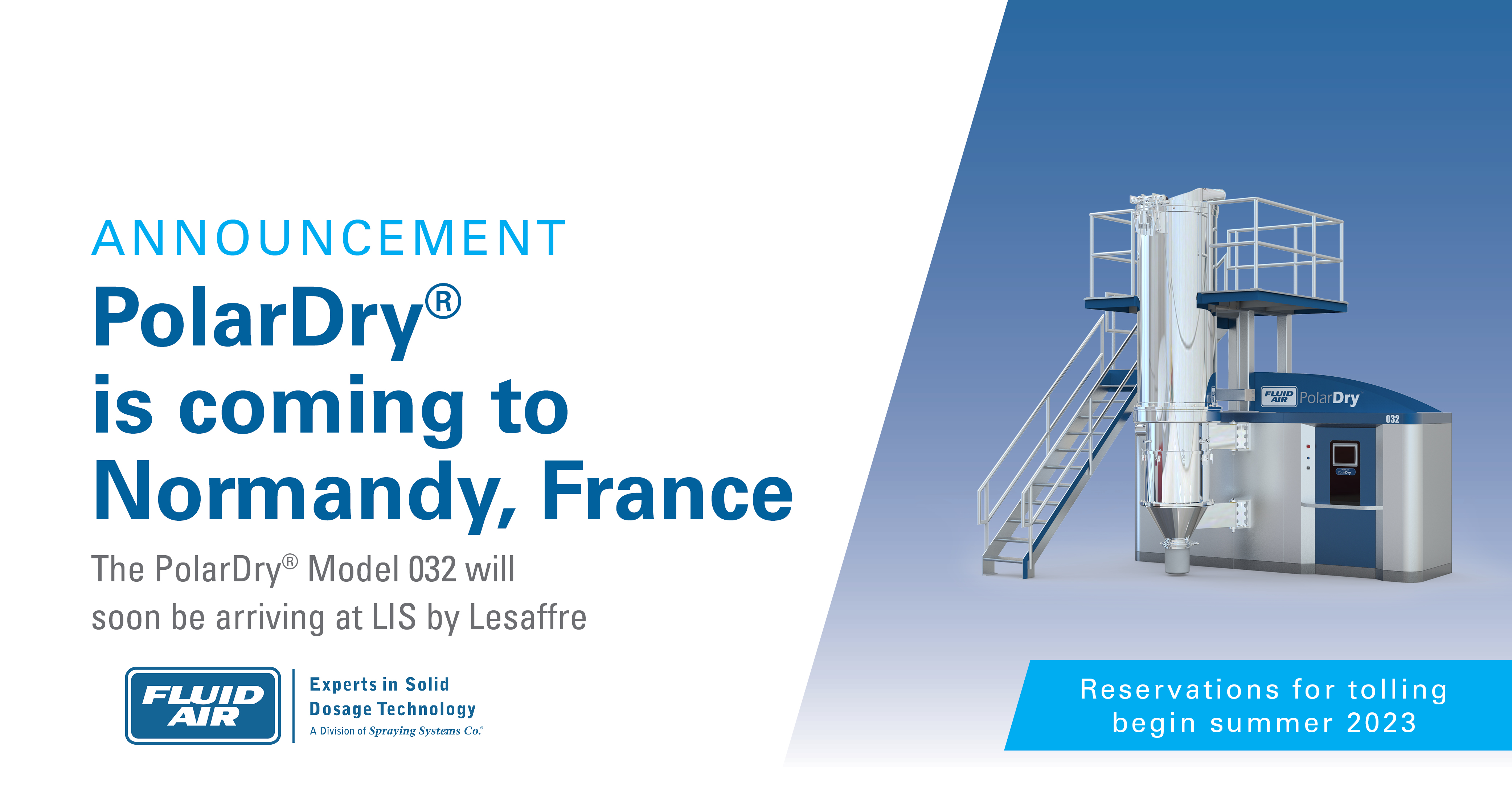 ---
Naperville, IL, March 15, 2023 – Fluid Air, a division of Spraying Systems Co., announced that LIS by Lesaffre, a drying specialist and subsidiary of Lesaffre, is expanding its wide range of drying capabilities with the addition of Fluid Air's PolarDry Model 032 electrostatic spray dryer to LIS' plant in Normandy, France, thereby greatly expanding the company's ability to offer tolling services for temperature-sensitive materials.

LIS is known for providing food ingredient producers with custom drying solutions using spray drying, vacuum drying, granulation, and microencapsulation. After four years of success operating the PolarDry Model 001 electrostatic spray dryer, which is typically used in feasibility testing of powder materials, LIS' European tolling customers can soon experience commercial-scale electrostatic spray drying on Fluid Air's PolarDry Model 032.

The PolarDry Model 032 is a modular, PLC-controlled intermediate system for pilot environments and will enable LIS' customers to use this technology to produce innovative ingredients after having verified manufacturability and quality on a broader scale, including product morphology, product stability, throughput, utility usage, and testing target markets.

"Our goal at LIS is to empower our customers with the best solutions for their spray drying needs," said François Cachot, LIS managing director. "This important addition to our drying capabilities, which is our second PolarDry machine, will keep LIS firmly on the leading edge of providing the best spray drying technology in Europe."

"We are grateful for our long-term relationship with LIS and are excited for more ingredient manufacturers to have increased access to electrostatic spray drying in Europe," said Michel Thenin, president, Fluid Air.

The PolarDry Model 032 will be available for tolling at the LIS headquarters in Normandy, France in fall 2023 and LIS will begin taking reservations in summer 2023.
---