New Research on Electrostatic Spray Drying is Showcased at Three Separate European Conferences
---
Presentations highlight business value benefits of electrostatic spray drying for processing thermo-sensitive compounds as compared to conventional spray drying and freeze drying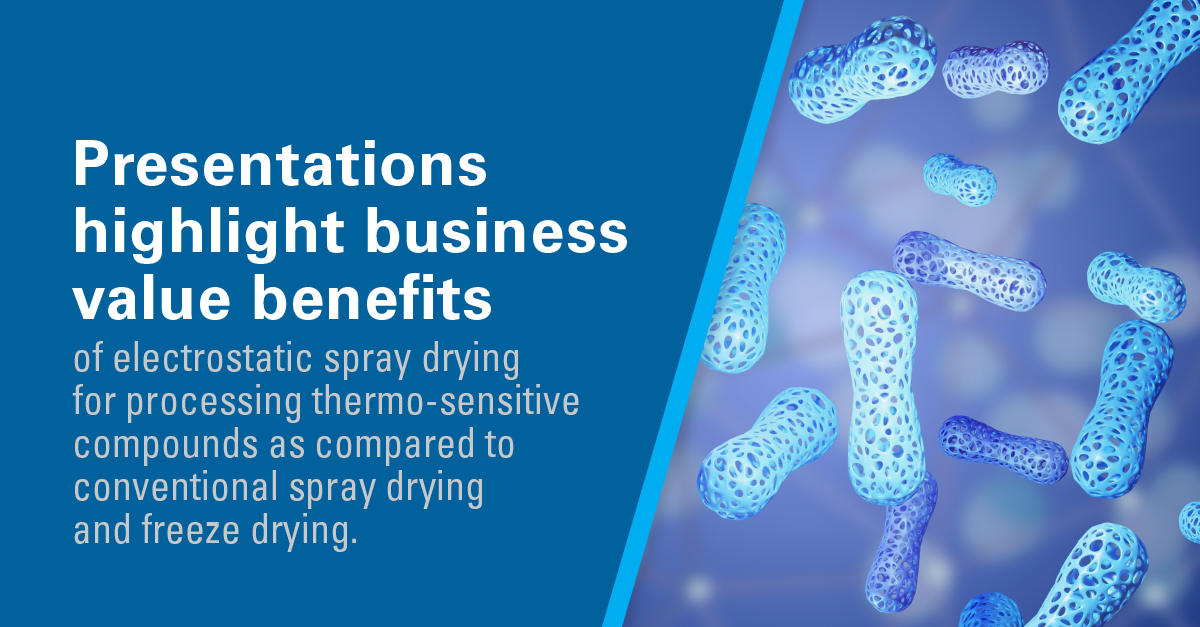 ---
Essen, Germany, 18 September 2023 – Fluid Air, a division of Spraying Systems Co., is pleased to announce that three of its engineers are featured presenters on electrostatic spray drying technology at industry events in The Czech Republic, The Netherlands, and Germany.
On 15 September 2023 at 9:30am CEST, Fluid Air Sales Engineer Marcel Ziemski and Fluid Air Process Engineer Elodie Beaupeux presented "Electrostatic Spray Drying" at the Spray drying: From theory to practice NIZO course in The Netherlands. This presentation uncovers benefits of electrostatic spray drying, including preserving active ingredients, high viability and stability of probiotics, reduced raw material waste, and energy efficiency.
On 19 September 2023 at 9:45am CEST, Beaupeux will again present, this time on "Stability of Food Active Ingredients Using Electrostatic Spray Drying Technology" at the International Conference on Food Bioactives & Health in Prague, Czech Republic. Beaupeux will share data from a study using β-galactosidase as a reference enzyme to compare the influence of matrices and various drying processes, as well as a study visualizing the advantages of electrostatic spray drying for anaerobic microorganisms based on an example of Rhamnosus LGG. Energy consumption and sustainability of conventional spray drying, freeze drying, and electrostatic spray drying will be highlighted. Registration is still open.
On 27 September 2023 at 11:25am, Fluid Air Process Engineer Jean-Maxime Edorh will present "Electrostatic Spray Drying – A Promising Technology for Thermosensitive Compounds at Industrial Scale at PARTEC and at 11:30am CEST, Fluid Air Sales Engineer Marcel Ziemski will present "PolarDry – Electrostatic Spray Drying as Alternative for Lyophilization" at POWTECH. Both events are co-located at the Nürnberg Convention Center in Nuremberg, Germany.
Edorh's presentation focuses on continuous process drying for thermosensitive products at large-scale. He will review a study evaluating scale-up for oil microencapsulation. Ziemski's presentation will showcase how electrostatic spray drying allows for heat-sensitive products to be spray dried at low temperatures with fast processing and less energy consumption.
"Sustainability is top-of-mind for many companies right now, and we are proud to provide patented electrostatic spray drying technology that is proven to help companies reach their sustainability goals. We are confident that attendees will find this data valuable," said Michel Thenin, president, Fluid Air.
Fluid Air has 40 years of experience developing equipment and custom solutions used for modifying and creating powders and particles. Its technology is used daily to help the pharmaceutical, nutraceutical, food, fine chemical, agriculture, and biopharmaceutical industries.
---