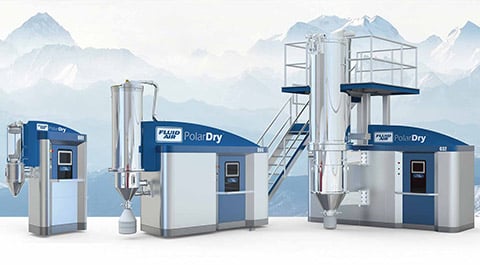 PolarDry®: Superior Microencapsulation at Low Temperatures
A high-throughput alternative to lyophilization or freeze drying, low-temperature PolarDry electrostatic spray dryers are ideal for heat-sensitive material including living microorganisms, probiotics, and proteins. This breakthrough process also supports products that require advanced microencapsulation for taste and odor masking.
The revolutionary PolarDry approach drives water to the shell and active to the core, lowering the evaporation temperature and eliminating active ingredient loss, degradation, and denaturalization. What's more, active driven to the core is microencapsulated, virtually eliminating surface active and resulting in stunning encapsulation efficiency. The result is exceptional stability for actives and enhanced viability for your products in the market.
PolarDry Model 0.1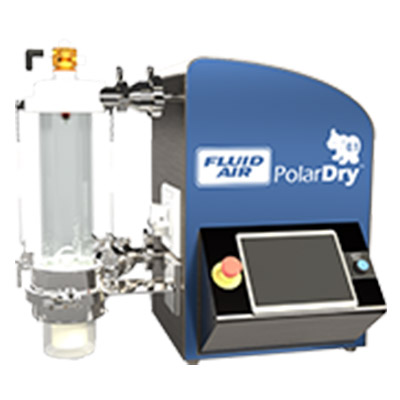 This portable, PLC-controlled, once-through design is ideal for small-scale feasibility tests. Specifically cGMP designed to fit in most lab and fume hoods.
PolarDry Model 001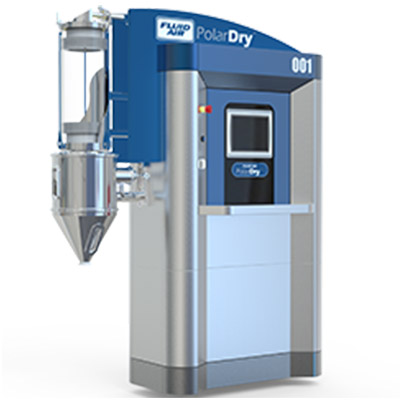 Designed for a laboratory environment, this portable, PLC-controlled, once-through design is the choice for feasibility checks. cGMP design assures full features in a compact footprint.
PolarDry Model 004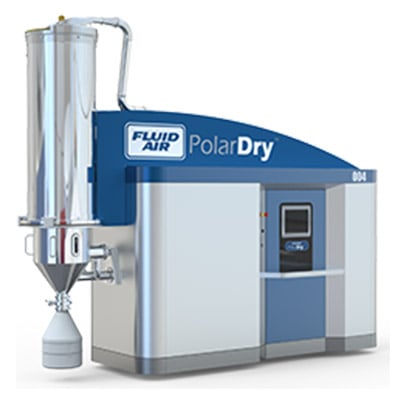 A semi-portable, PLC-controlled, recirculating system well suited to R&D environments. Using the same nozzle as other popular PolarDry models makes it easier to scale up from one machine to the next. Includes portable access stairs and a work platform.
PolarDry Model 032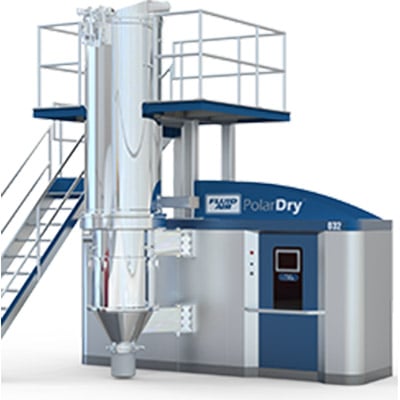 A modular, PLC-controlled intermediate system for pilot environments, model 032 gives you the choice of Batch Architect™ or Batch Architect Pro™ software with 21 CFR Part 11 compliant data logging. Includes access stairs and a work platform.
ELECTROSTATIC SPRAY DRYER SPECIFICATIONS

MODEL 0.1

MODEL 001

MODEL 004

MODEL 032

MODEL 050

MODEL 100

Nom. Evaporation Rate (kg/hr)

0.1

1

4

30

50

100

Min Drying Temp. (°C)

20*

20*

10

10

10

10

Max Drying Temp. (°C)

200

140

140

140

140

140

Max Drying Gas Flow (m3/hr)

8.5

42

170

1020

1784

3568

Max Atomizing Gas Flow (m3/hr)

3

10

17

68

120

240

Collection Volume (liters)

0.25

1

20

14**

20**

20**

Drying Gas Heater

Electric

Electric

Electric

Electric

Indirect Gas

Indirect Gas

Gas Handling

Once Through

Once Through

Recirculating

Recirculating

Recirculating

Recirculating

Feed Stock Pump

✓

✓

✓

✓

✓

✓

Nozzle Clog Monitoring

-

-

-

✓

✓

✓

WIP Nozzles Included

-

-

✓

✓

✓

✓

Filter System

Patent Pending Filter Bag

Patented Reverse Pulse Bag

Patented Reverse Pulse Bag

Reverse Pulse Cartridge

Reverse Pulse Cartridge

Reverse Pulse Cartridge

Controls

NEMA 4X

NEMA 4X

NEMA 4X

NEMA 4X

NEMA 4X

NEMA 4X

Controls Software

Batch Architect

Batch Architect

Batch Architect

Batch Architect***

Batch Architect***

Batch Architect***
Superior End-Product Stability
In a recent laboratory study, PolarDry electrostatic spray drying at 70°C, produced a more homogeneous dry powder of a temperature-sensitive formulation with greater stability and shelf life. This opens the door to a wide range of commercially viable opportunities across pharmaceuticals, nutraceuticals, cosmetics, foods, agriculture, and other industries.
Temperature-Sensitive Protection
PolarDry spray dryers utilize electrostatic technology to drive water to the outside of the droplet, allowing dramatically lower operating temperatures—from traditional ~200°C to ~80°C. This leads to greater encapsulation efficiency for high-volatile components and reduces heat degradation.
Space and Cost Efficiency
PolarDry systems feature small footprints to reduce maintenance and installation costs. Disposable inner liners make cleanup and changeover easy. Plus, many features and components are shared across the product line, streamlining the effort to scale up from one machine to the next.
Enviormental Advantages
PolarDry systems feature nitrogen-inerted systems for exceptional safety. Process gas is recycled, virtually eliminating regulatory issues and safety challenges regarding negligible emissions.
Operator Dust Protection
Negative pressure spray chambers feature monitored inflatable seals. Finish material is collected in a centralized system—no cyclones or dust collectors required—and removed via sealed systems. High-efficiency filters feature a dust sensor on the exhaust and HEPA filters on the inlet and exhaust. Finally, wash-in-place nozzles clean the whole spray chamber before opening.
Quick Cleanup and Changeover
A patented liner system benefits overall operation, cleanup, and changeover. FDA-compliant liners are inserted in the spray chamber, covering the vessel walls and forming a thermal barrier that prevents heat loss to the process room and speeds warm-up. The liner may be washed using tank cleaning nozzles then removed for product changeover.
Consistently Precise Results
All PolarDry nozzles are designed by Spraying Systems, a global leader in spray technology. Each nozzle is precision machined to high tolerances to assure consistent droplet formation, and fully analyzed to assure Spraying Systems' high level of technical, droplet data, and analytical support.
Granulating While Drying
By controlling the electrostatic charge applied to the feed on an intermittent basis, PolarDry® Technology gives you the means to agglomerate particulates as they are being dried. This patented feature, PWM (Pulse Width Modulation) precludes the need for expensive secondary agglomeration operations.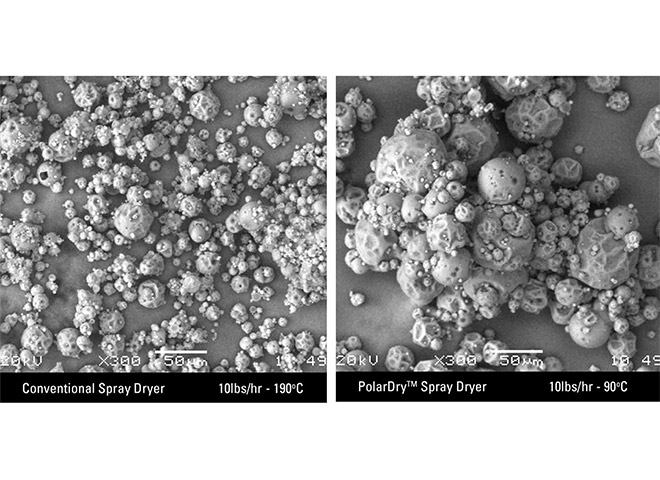 By controlling the voltage applied to the spray droplet as it is being atomized, some particles form an outer shell readily while others develop their shell gradually resulting in a wet or tacky particle. As these two types of particles colloid, they bond forming an agglomerated particle. This results in a finished product with larger particles and fewer fines which flow freely.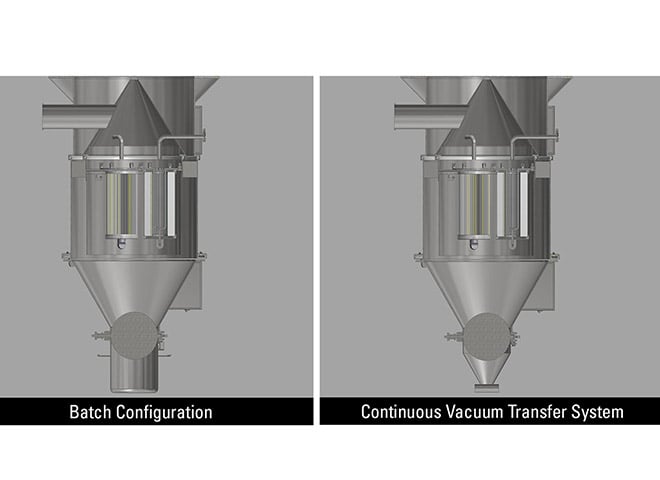 Batch or Continuous Process Configurations
As the FDA and other global regulatory agencies push for continuous processing in pharmaceutical production, PolarDry technology is ready to meet your product demands. PolarDry processes incorporate a unique, patented collection/particle separation plenum that can be easily configured for batch or continuous processing.
Process Flexibility
PolarDry machines are designed for maximum customization and flexibility, including:
Quick set up, thanks to the integration of a disposable inner chamber liner that can be changed in minutes
Easy turnaround from one run to the next, through a patent-pending cartridge filter with reverse pulsing to ensure steady drying gas flow
Compact, portable designs, so equipment can be easily transferred from one suite to another
Models 001 and 004 are on wheels and fully contained, requiring only electricity, a nitrogen intake, and, for Model 004, an outside chiller to operate
Model 032 requires only electricity, a nitrogen intake, and an outside chiller to operate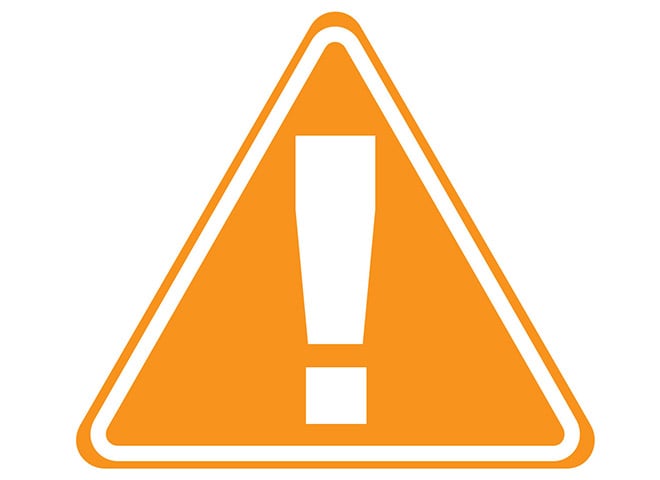 Designed-In Safety 
Nitrogen-inerting explosion protection
Redundant oxygen monitor prevents operation if oxygen level is too high
Rated lid safety lock and monitored inflatable seals prevent the operator from opening the vessel lid if oxygen level isn't safe (Model 004+)
Heater over-temperature protection
Emergency stop buttons and monitoring with safety reset; voltage generator resets if amperage exceeds 8 mA, protecting the operator
Area oxygen monitoring